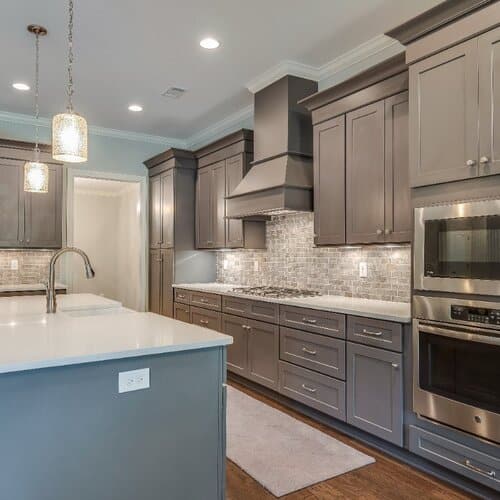 Fall in Love With Your Kitchen Again
Kitchens are the heart of the home. We have to eat to survive, and many social events revolve around food, too. Having a functional kitchen can make preparing meals and entertaining easier and even enjoyable. If your residential kitchen feels cramped, outdated, or technologically unsophisticated, it may be time for a kitchen remodel. Besides adding tremendous value to your home, an updated kitchen opens up possibilities for gathering, healthier eating, and more. However, a total kitchen remodel is a large undertaking requiring a generous amount of demolition, plumbing, and installation and you don't want to trust just anyone with the job.
Finding the right contractor for your kitchen remodel can be a long process and many people don't have the savings to invest in a total kitchen remodel all at once. My Plumbers LLC is proud to offer kitchen remodeling help in Asheville, NC. New appliances go a long way in making your kitchen feel new and refreshed, and we can help with their installation. If needed, we can provide guidance on some of the best water and gas-powered kitchen appliances based on your style preferences and budget. Kitchen renovations are costly on your time and money, so it's essential to work with someone who will get the job done right the first time. Call 828-708-7107, and experience the My Plumbers LLC difference. 
Professional Kitchen Remodeling
A lot goes into kitchen remodeling, and it can be overwhelming trying to tackle the whole project on your own. Choosing a professional to guide you through the process can make a world of a difference.
The first step in any kitchen remodel is considering the existing space and layout. Next, set a budget and choose options to fit within that budget. Generally speaking, in Asheville, NC, you can expect to spend a minimum of $20,000 if remodeling a medium-sized kitchen. If a total kitchen remodel is not in your budget, there are several updates you can make to your kitchen to increase functionality and appearance without breaking the bank.
How We Can Help
Dishwashers, garbage disposals, refrigerators, and gas-powered stoves all make use of your home's plumbing system. Giving a facelift to your kitchen while the pipes beneath are in disarray is like putting a bandage on a severed toe. Our plumbing professionals can help you make the necessary plumbing system adjustments, allowing you to get ahead in your kitchen remodel in Asheville, NC.
Small Updates That Make a Big Difference
A total kitchen remodel is expensive, but there are smaller, more affordable projects that can improve the functionality and appearance of your kitchen.
Backsplash installation. Let your personal style shine through with a new backsplash. Besides adding aesthetic appeal, backsplashes are easy to clean if they get greasy or splattered while cooking.
Repainting cabinets. Dirty, peeling cabinets can deter anyone from wanting to spend time in the kitchen. A fresh coat of paint and new hardware can go a long way in updating your kitchen's appearance.
Add a kitchen island. Islands provide additional counter space as well as dish storage and comfortable seating. No matter the size of your kitchen, there's an island to suit your needs.
Open shelving. Open shelves instead of upper cabinets make small kitchens appear larger and allow you to display your pretty dishes.
New countertops. New countertops have a huge impact on your kitchen's design.
Update your floors. Homeowners have many options when it comes to flooring. Go with traditional hardwood floors or choose a wood-looking alternative, like vinyl or glazed ceramic tiles.
Choose My Plumbers LLC for Kitchen Remodeling in Asheville, NC
Whether you're in the market for a complete renovation or just looking to upgrade a few aspects of your kitchen, My Plumbers LLC provides options that fit your preferences and budget. We work closely with our clients to understand your wants and needs and deliver quality results at a price you can afford. Kitchen remodeling in Asheville, NC, is just a call away. Dial 828-708-7107 today.