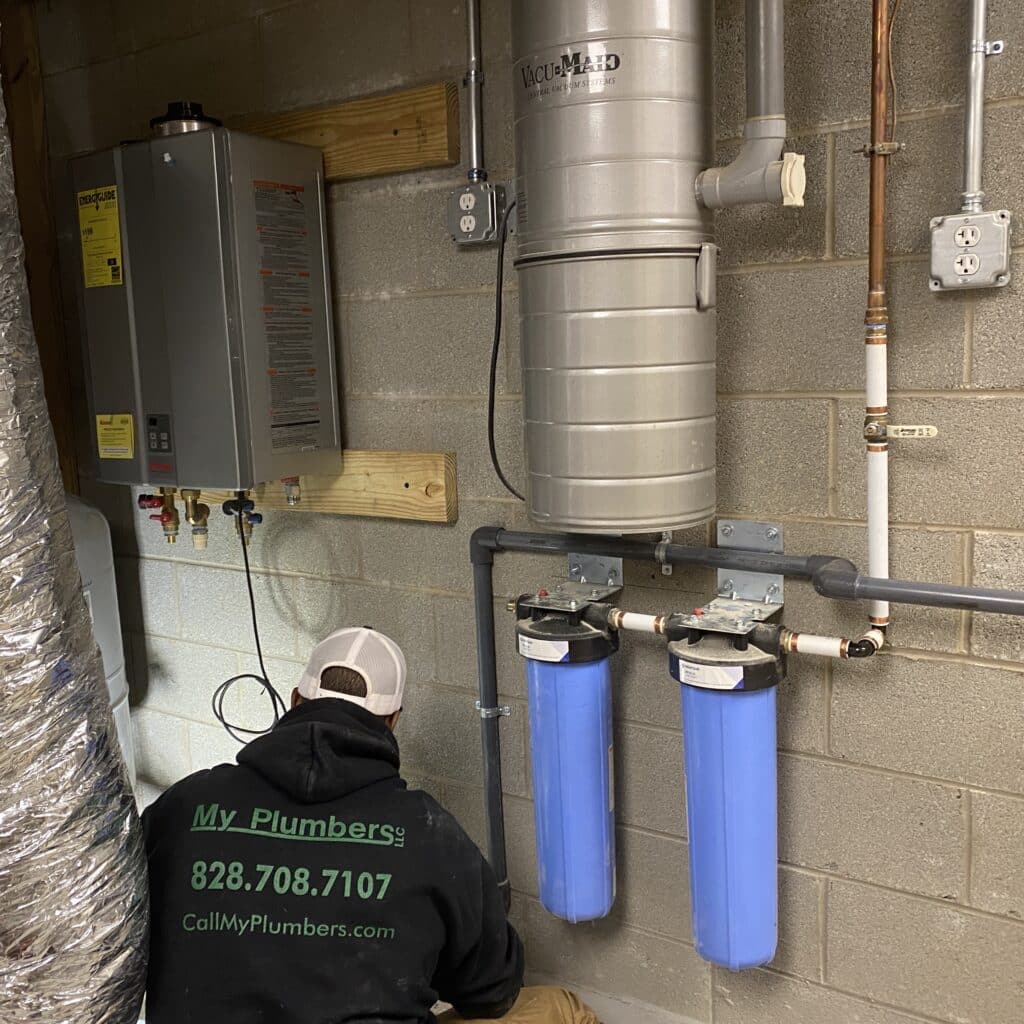 Protect your source.
Water is essential to life. We drink it, bathe in it, and use it for cooking and cleaning. In fact, the human body is made up of about 60 percent water. With water being so integral to our existence, having a clean source is important. Most Americans receive water from public water systems, while about 15 percent of the U.S. population have access to private wells. Despite your source of water, contamination is possible. In fact, the presence of feces, metals, sediment, chlorine, and other foreign bodies in your water is actually quite common. Sound disgusting? It is.
But have no fear because My Plumbers LLC is here! Our team of licensed plumbers are familiar with the most powerful water filtration and purification systems on the market and can help you hone in on the best one for you, your needs, and your budget. If you're seeking cleaner water, let My Plumbers LLC be your water treatment company in Asheville, NC. Dial 828-708-7107 to get started.
Water filtration vs. Water purification
Knowing what you're filtering against is imperative when deciding upon a water filtration or purification system. A water test can help you understand what contaminants are in your water. My Plumbers LLC offers testing for nitrates, hardness, sulfur, chlorine, and pH. If testing for bacteria or metals is necessary, we can help connect you with a water testing lab in Asheville, NC.
After you know what's in your water, you can make a more informed decision as to which type of system you choose. Generally speaking, water filters are designed to eliminate protozoa and bacteria but not viruses. Water filters use physical barriers, biological processes, or chemicals to remove contaminants from the water. Filtering against larger foreign bodies, a filtration system improves the taste, color, and purity of water. There are many types of water filters, including portable drinking straw type filters and pitchers that go in the fridge, as well as more permanent fixtures, like a separate tap installed on the kitchen sink.
Water purifiers, on the other hand, can remove protozoa, bacteria, and viruses. Purification uses a chemical process to remove contaminants. Reverse osmosis, distillation, and deionization are some of the more popular forms of water purification. Minerals are also removed with water purification. The advanced methods of purification are most often used in labs, pharmaceutical industries, and manufacturing processes.
Whole House Water Treatment Systems for Clean Water in Every Area of Your Home
Typically, water filters are installed under the sink, in the shower, or wherever else you want cleaner water. The problem with these systems, however, is that they only service a particular faucet or part of the house. With whole house water treatment systems, you can enjoy the benefits of filtered water in every room. When you have filtered water throughout the home, you can expect:
Longer lasting plumbing and appliances. When water has high levels of dissolved calcium and magnesium, it's referred to as "hard water." Minerals in hard water can accumulate in the inner workings of your appliances and plumbing, leading to damage.
Cleaner clothes. Unfiltered water has contaminants that decrease the efficacy of your laundry detergent. These impurities also eat away at fibers in your clothes and cause premature deterioration.
Hydrated and moisturized skin and hair. You know how your hair and skin look and feel after a summer of swimming in the pool? Ashy, dry, and brittle come to mind. Well, unless filtered, the water in your bath and shower contains chlorine, the same chemical found in pools.
Better tasting, looking, and smelling water. Ever had a glass of water that tasted like a ring of keys or smelled like a fish tank? Foul looking and smelling water can be caused by feces, sediment, chlorine, and other contaminants. Remove all that, and you're left with a glass of refreshingly crisp water.
Let us know. We're ready to go!
Would you like to start enjoying the benefits of pure water? Then call us at 828-708-7107. My Plumbers LLC is a full service plumbing contractor serving Asheville, NC, and the surrounding communities. Any plumber that comes to your home is licensed, trained, and ready to perform quality work at prices you can afford. Dial 828-708-7107 to get started on your fresh water journey.
What are the benefits of filtered water?
Filtered water makes your laundry detergent more effective and helps your clothes retain its integrity longer. Without chlorine (used by water authorities to clean water), hair and skin stays moisturized. Filtered water aids in nutrient absorption, weight loss, and reduces the risk of cancer.
How much maintenance does a water filtration system require?
All filtration systems have a sediment filter and carbon filters. Since sediment filters can only hold so much sediment before they clog up, these have to be replaced about every six to 12 months. Carbon filters use adsorption to attract chemicals, and these, too, have to be changed annually or bi-annually.
What's the most affordable way to filter water?
There are many portable and permanent water filters that are effective and affordable. There are filtered pitchers that you fill up and put in the fridge, and straw-like filters that backpackers use to filter water in the backcountry.